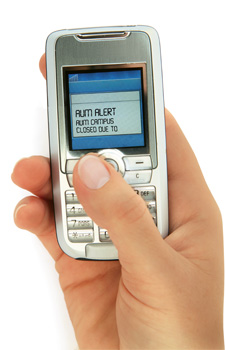 As part of Auburn University at Montgomery's ongoing efforts to safeguard students, faculty and staff, the University has implemented the AUM ALERT emergency communications system. This system allows students, faculty and staff to receive time-sensitive emergency messages in the form of e-mail, voice mail and text messages.

All active employees and currently enrolled students will receive emergency alerts to their campus e-mail address. In order to receive text and voice message alerts, members of the campus community will be asked to provide phone contact information. While participation in the text and voice messaging notification is optional, enrollment is strongly encouraged. The information you supply is considered confidential and will not be shared or used for other purposes. You will be contacted through the system in the event of an emergency.

For more information on AUM ALERT, please refer to the Frequently Asked Questions.